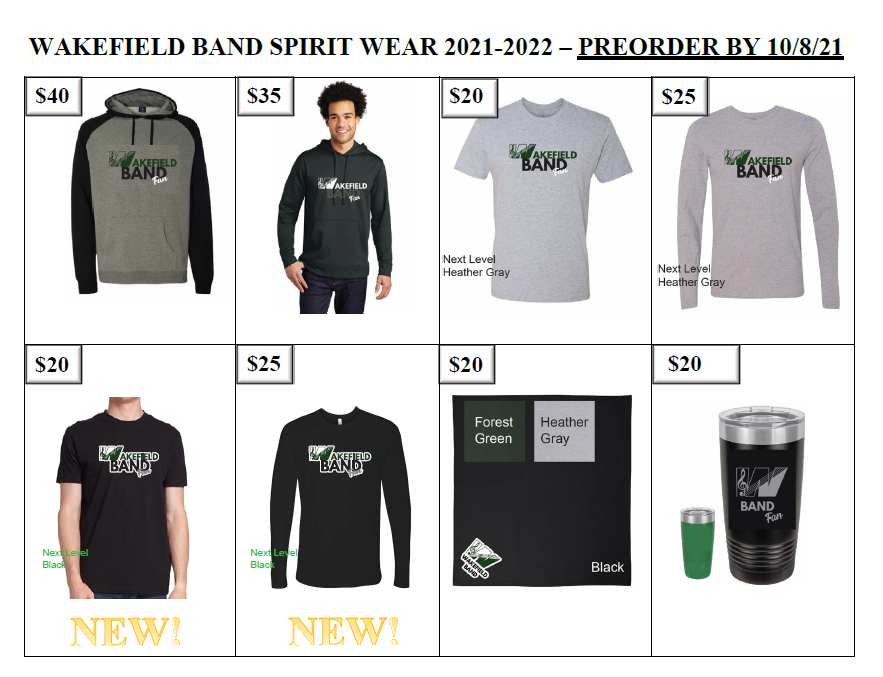 LAST CHANCE!!!
ORDER WILL BE PLACED ON FRIDAY, OCTOBER 8th
Here is how to pre-order your items:
Go to www.wakefieldband.org
Click on donate/pay fees (Remember to include the following under special instructions: last name and what you are purchasing (include size and if you want WHS Band or WHS Band Fan Logo when appropriate). If you run out of space in the special instructions box – email yanhinasrodriguez@gmail.com with your order information after you have paid.
(It takes an estimated 2 weeks for these items to arrive.) Below are descriptions of each item (material):
Independent Trading two tone hooded sweatshirt 55/45 cotton-poly blend (Gray body with black sleeves and hood) with WHS Band fan logo or WHS Band: Price $40
Port & Company 100% poly moisture wicking sweatshirt in black with WHS Band fan or WHS band logo: Price $35
Next Level short sleeve t-shirt 90/10 cotton-poly blend in Heather gray with WHS Band Fan or WHS band logo: Price $20
Next Level long-sleeved t-shirt 90/10 cotton-poly blend in Heather gray with WHS Band Fan or WHS band logo: Price $25
Next Level short sleeve t-shirt 90/10 cotton-poly blend in Black with WHS Band Fan or WHS band logo: Price $20
Next Level long-sleeved t-shirt 90/10 cotton-poly blend in Black with WHS Band Fan or WHS band logo: Price $25
Gildan stadium sweatshirt blanket with WHS Band logo. Available in Black, Forest green or Heather gray: Price $25
Polar Camel 20 insulated tumbler with WHS band fan or WHS Band logo engraved on one side. Available in Black or Kelly green: Price $20
Please contact Yanhina Rodriguez (Gisel's Mom), Merchandise Coordinator, if you have any questions.
Cell: 703-927-7276 Email: yanhinasrodriguez@gmail.com